Skip to main content
It looks like you're using Internet Explorer 11 or older. This website works best with modern browsers such as the latest versions of Chrome, Firefox, Safari, and Edge. If you continue with this browser, you may see unexpected results.
Education is sharing.
David Wiley, Lumen Learning
Open Educational Resources (OER) are any type of educational material that's freely available for teachers and students to use, adapt, share, and reuse.
Examples of OER include learning content (such as lesson plans, assignments, textbooks, exams, and videos) as well as tools for learning (like software for creating videos and websites, course management systems, word processing programs, and training materials).
Why is OER important?
For Students
Lower costs of attending University
Less of a loan burden after school, reducing payments and defaults
For Faculty
More control over instruction
More diverse course content
Reducing the need to deal with publishers and the bookstore
Students having course materials at the start of the semester
For the University
Improvements in retention, graduation, and loan default rates.
Improve Access
Students often choose to borrow textbooks from the library or rent them from the bookstore in lieu of purchasing the textbook. For those that do purchase textbooks, many attempt to regain their money by selling the books back to the bookstore or online after the course is over. OER are free and available. Students can take their materials with them after class ends, which means that they will always have access to learning materials for future use.
Textbooks and educational materials are often covered by stringent copyright restrictions, which does not allow reuse in other contexts or modifications or derivations. With OER, students and instructors can re-use and re-purpose the materials not just during the class, but in the future as well.
Democratize Learning
OER are free and available online, which means that anyone can access and use them. When an instructor makes their teaching material openly available, they can teach far beyond their own classroom. Students can also access these materials, whether they are supplementing a course they are already taking or starting out on an educational journey.
By creating and adopting OER, students and teachers can connect around the world, opening up networks of learning and enhancing collaboration opportunities. Read a story here about a yak herder in Tibet learning poetry from a Stanford professor.
(Sources from University of Pittsburgh Library, West Texas A & M University)
OER Make an Impact
OER are being adopted by faculty at universities around the country. Even just a few faculty using OER rather than costly textbooks and course materials can have an incredible impact on the student experience. The infographic below shows some figures from one project in British Columbia.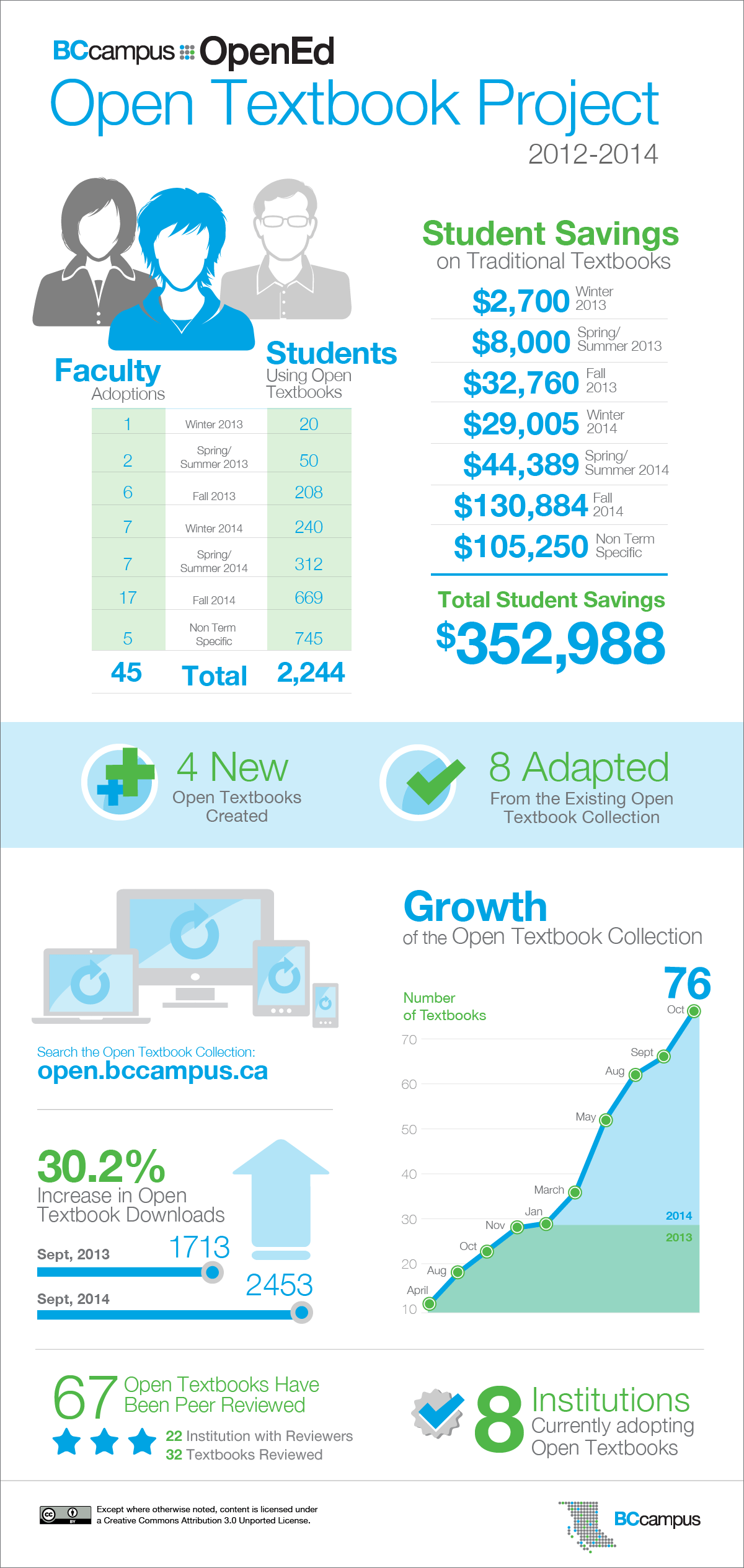 Gateway Library & Learning Commons | 20 Church Street, New Haven, CT 06510